POLYSLEEP BRINGS STYLISH AND AFFORDABLE HIGH-QUALITY PERFORMANCE MATTRESSES TO PEOPLE'S BEDROOMS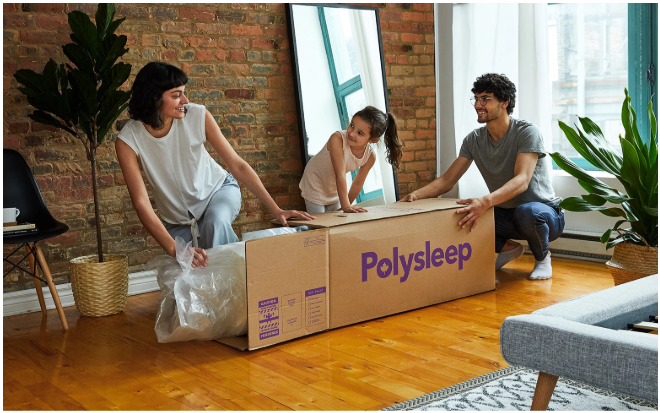 The mattress in the box company located in Montreal, Quebec, brings affordable luxury to bedrooms nationwide with its first-of-kind Polysleep Mattress.
Polysleep is an exciting Canadian hybrid foam mattress company that is trying to save the world and your wallet one mattress at a time by offering mattresses designed for better sleep at half the price of a comparable product. Their designers researched the mattress market and had tough times finding a mattress that lived up to their ideals without having to spend more than a thousand dollars on it. Additionally, they found that mattress shopping can be an intimidating experience, and consumers can easily get taken advantage of.
The company, having realized that buying any mattress is a process filled with uncertainty, stress, and post-purchase regret, decided to swing into action. To solve that, they created unique mattresses dedicated to delivering long-term customer satisfaction. They also simplify the mattress buying experience by making a great mattress, cut out the high markup middlemen, offer it at half the price, and give back to those in need by donating any returned mattresses to not-for-profit organizations. They removed the huge markup that retail stores require by developing and distributing their products directly from their manufacturer in Montreal, thereby offering conforming foam mattresses directly to consumers at "just right" prices. The unique design of their high-density foam also ensures that the mattress can be folded, rolled, and delivered in a box while expanding back to its original shape in just a few minutes!
People spend one-third of their lives sleeping and; that's why Polysleep created the best foam mattress in Canada to create a better night sleep. Polysleep mattresses are thoughtfully crafted with the help of chemists specialized in foam design to achieve the targeted "just right" medium-firm feel while maximizing deep down body support. They did a lot of research and testing to finish with their unique formula that achieves the "just right" feel of not too hard and not too soft. Don't judge a book or mattress by its cover, there are many mattresses with pretty covers on them, but many are using low-quality foam or innerspring on the inside that will breakdown fast. Polysleep uses only high-quality ingredients that have been thoroughly tested.
Polysleep is a passionate mattress company that believes in having a good time while doing what they love, and they do love what they do. Aside from saving people from always spending a significant amount of good mattresses, the company also stands by its principle of using their knowledge, abilities, and hearts to help those in need. What makes their services more impressive is the fact that people can purchase the items online, have it shipped in a compressed box to move around tight corners easily and narrow hallways and even have it shipped fast.
"Consumers live and sleep differently today. Everyone is working longer and harder, and we need to improve the quality and quantity of our sleep to keep us up and running our busy lives. To support consumers in achieving better sleep, we've created products engineered to function more personally, and we've included an unprecedented 10 year warranty with the purchase of this product to support consumers for years to come," The CEO for the company said.
Designed and manufactured in Canada, Polysleep mattress is the best foam mattress on the market, and it's available in all bed sizes. Canadian-made products are recognized and trusted for their superior quality and performance around the world. The design, along with a trial period of 100 nights makes it easy for customers to adapt to the firmness of their mattress to fit changes in their lifestyles at any time. Polysleep has made mattress buying regret-free by making it easy to transform the feel of the mattress in week one or year ten. No matter your morphology, the Polysleep mattress molds itself to the shape of your body to give you a very restful sleep.
It is a known fact that "Sleep is our secret weapon for success. Sleep fuels our dreams and ideas and invigorates the body and mind. The wages of hard work and insufficient sleep is burnout. The return on investment in sleep is achieving our potential". For this reason, all of the elements of the Polysleep mattress are designed to enhance sound sleep and extend sleep time, which sleeps researchers say is essential to good health. Polysleep mattresses are made from various foam layers, including a top layer of ventilated viscoelastic hybrid foam that promotes air circulation.
One of the things that set Polysleep mattresses apart from others is their proprietary support frame, no other competitor offers this incredibly important feature. The frame is made of high density foam which wraps the perimeter of the mattress, and keeps it from flattening out when you sit on the edge.
People are able to purchase their premium memory foam mattress and can help others at the same time. Polysleep includes national shipping and guarantees satisfaction with their 100-night sleep trial. Also, if it isn't a fit, no hard feelings, the company will pick the mattress up for free and donate it to a local charity: good mattress, just right price, no-hassle returns, fast shipping and helping others.
Polysleep promises to wake up the Canadian bedding industry as the disruptor in sleep, delivering unparalleled sleeping comfort and the most refined customer service experience to date. All Polysleep products ship for free within Canada. For further information about Polysleep mattress and other products, please kindly visit https://polysleep.ca/ or call 1 (844) 869 – 7659.
About Polysleep
Polysleep is a leading Canadian hybrid foam mattress company that is continuously innovating to offer the best sleep at the most affordable price. Their hybrid foam mattresses are manufactured from top to bottom in Canada to ensure close-quality monitoring and the most accessible price on the market. Polysleep continues to push the envelope in hybrid foam manufacturing with products that are better than the rest, delivered directly to consumers, and equipped with a well-considered trial, return and warranty policies.
Media Contact
Company Name: Polysleep
Contact Person: Matt
Email: Send Email
Phone: 1-438-802-7659
City: Montreal
Country: Canada
Website: www.polysleep.ca