Simply Coding Python-Multiplayer Training Program Approved by School Boards for STEM Practices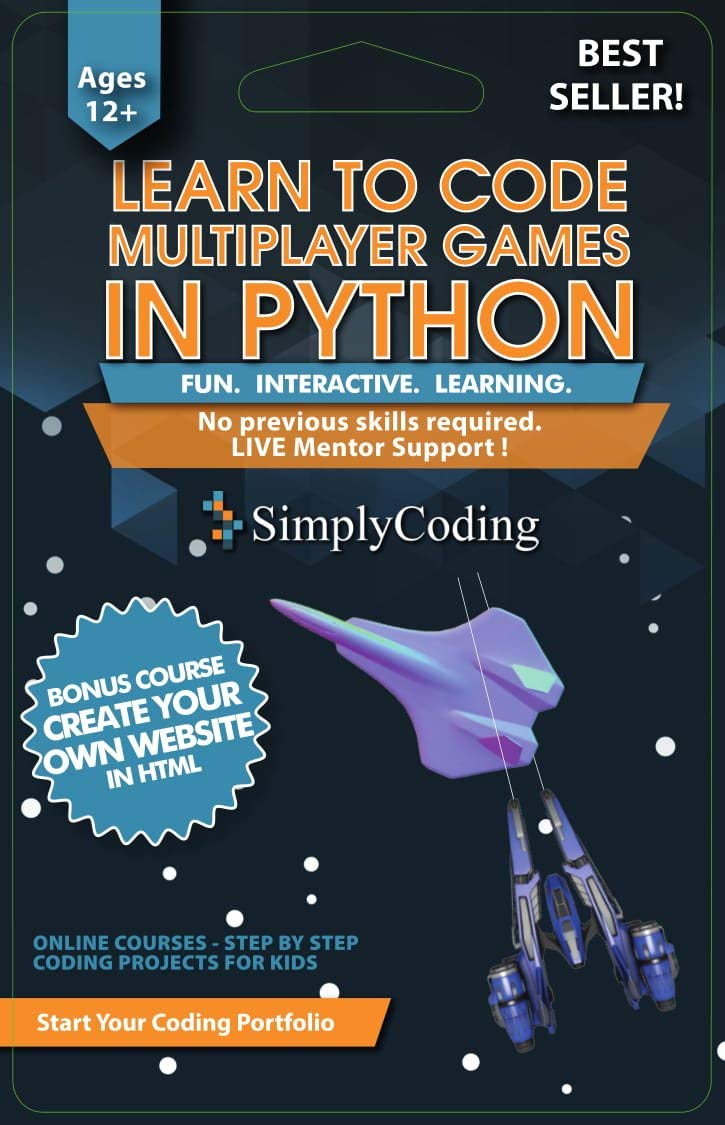 Simply Coding's popular online training program Python-Multiplayer Training has recently received approval from numerous school boards across the country as part of their STEM curriculum. This coding training course is suitable for children in the age group of 12-18.
Simply Coding is pleased to announce that its online tutorial on computer programming for kids has now been included by several school boards across the United States as part of their STEM practices, both through course catalogs as well as after school programs. This detailed training course has been designed to help kids learn Python and code creation from a very early age. To make learning easy for the kids, the program offers video reviews of lessons, online community support, and live Q&A sessions featuring experts. Its interactive teaching methodology also helps build a child's passion for coding software. This high-quality tutorial is currently one of the top rated Amazon products in its category.
Simply Coding has crafted its coding for kids course meticulously with the help of professional programmers. Interestingly, the product has been tested by thousands of children throughout the United States. The objective of this program is not only to enhance math and science skills of the kids by challenging their spatial and critical thinking, but also to let them have fun with friends and games they customize themselves. The program offers extended platform support and reduced system requirements so that everyone can enjoy programming.
"STEM education is all about helping kids understand real challenges and coming up with their own possible solutions. Coding is no different. During our lessons students will have lots of opportunities to write, customize and rearrange various lines of code. They will constantly be asked 'if then' type questions. For example, if 'this' happens then what would you like to happen next? They will use their great brain, through code to solve these challenges. All youth love to figure things out and see real solutions happen right before their eyes," said a spokesperson from Simply Coding.
Simply Coding informs that in addition to the US school boards, its animation software is currently being used by students in Canada, Africa and in the UK. The program is also popular as an effective homeschooling tool. The course is also provided to many charter, private and independent schools in California, Utah, Arizona, Iowa, Florida, Alabama, Georgia, Texas, Michigan and Tennessee.
"My 14 year old son really enjoyed this software. He said it was very easy to understand, and had live help when he needed it. The dashboard was very user friendly as well. It was a good learning experience to see what all went into coding a game, and he will be able to use what he learned in later projects at school," a reviewer mentioned in his Amazon review.
To find out more about Simply Coding Game Python-Multiplayer Training Program for Kids, please visit http://www.amazon.com/dp/B01ETTRZ3M
About Simply Coding:
Simply Coding is an organization dedicated to creating high-quality digital learning programs for the children. A number of online courses from the company are now selling successfully on Amazon.com
Media Contact
Company Name: Simply Coding, Inc.
Contact Person: Media Relations
Email: Send Email
Phone: (801) 494-7751
Country: United States
Website: https://simplycoding.org/