PoolScout, the First Cloud-AI Monitoring System to Recognize Toddlers, Launches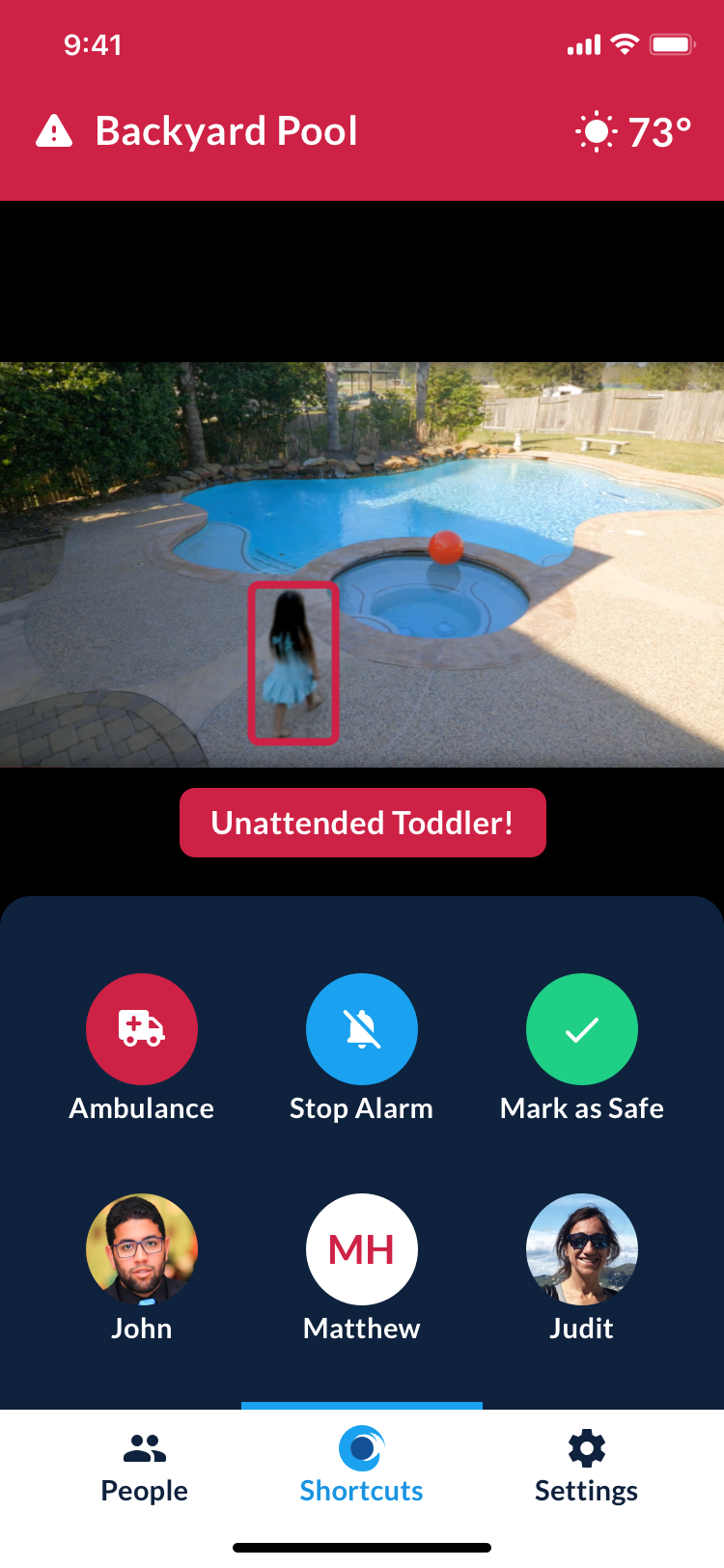 PoolScout's cloud-based AI technology sends an alert when an unattended toddler could be headed for a dangerous situation in their home pool.
PoolScout is the world's first cloud-based AI system to monitor pool safety and the only pool monitoring system that can distinguish between toddlers, persons, and pets in real-time to deliver maximum peace of mind.
London, England, UK – Aug 2, 2022 – Deep Innovations, an innovative cloud-AI company, announced today that its premier product, PoolScout, is available for distribution. PoolScout uses cutting-edge computer vision technology and artificial intelligence to keep a virtual eye on all activity happening in and around the family pool, 24/7.
The PoolScout Kit consists of a high-quality camera, wired alarm unit, and required cabling to facilitate the cloud-AI PoolScout Service, managed by the customer's app. If the system detects a toddler or pet unattended by an adult or they get into the water, an alarm is raised. Furthermore, the service includes a beta feature where if someone is underwater too long, an alarm will go off at the pool and on the app, maximizing the pool owner's time to react.
PoolScout is an additional tool for pool safety, augmenting the security that pool gates and fences already provide.
PoolScout Founder and CEO Sam Weitzman conceived the idea for PoolScout when he was at a community pool with his son, Joshua. He and his wife were momentarily distracted taking a photo, and when Weitzman turned around, he noticed his son had sunk to the bottom of the pool and was flailing. Even though Joshua was in shallow water, Weitzman immediately recognized how quickly an enjoyable family outing could turn into a tragedy. Weitzman began thinking about how accessible, deep-learning technology could mitigate and even prevent such scenarios. In 2017, he founded Deep Innovations.
Earlier this year, two leading industry organizations recognized PoolScout for its remarkable technology. The Security Industry Association gave PoolScout its top award for the Smart Home Solutions category, as did the Electronic Security Expo's 2022 Innovation Awards in the Home Automation/Home Control Systems category.
"PoolScout is the only pool monitoring system that can detect and distinguish toddlers from adults, pets, and objects in real-time, providing maximum peace of mind," says Weitzman.
PoolScout is available through select distributors in the US with additional international distributors in Australia, Mexico, and Brazil coming online soon.
PoolScout is the only pool-monitoring system with the remarkable ability to track, monitor, and distinguish toddlers from adults and pets in real-time. Relying on cloud-based technology and artificial intelligence that live streams from the owner's pool to their phone, PoolScout is the essential added layer of safety and security that maximizes a pool owner's reaction time so that they can enjoy their pools with peace of mind.
Headquartered in London, England, Deep Innovations was founded in 2017 by Sam Weitzman. The company has developed cutting-edge cloud-based technology, artificial intelligence, and computer vision to create a variety of value-add applications. Its first product, PoolScout, runs on a proprietary platform called ScoutX.
Media Contact
Company Name: Otter PR
Contact Person: Gigi Marino
Email: Send Email
Phone: 352-727-1282
Address:100 E Pine St Suite 110 Suite 110
City: Orlando
State: FL
Country: United States
Website: www.OtterPR.com