Jazz Hamilton Set To Release The Official Video OF "Smile"
Talented Puerto Rican saxophonist, arranger, orchestrator and composer, Jazz Hamilton, honors those who lost their lives to Covid-19 as he releases the music video of the song entitled "Smile"
Jazz Hamilton is dedicating his latest project, Smile, to the memory of the people who lost their lives due to the Covid-19 pandemic as well as their families and friends as he is set to release the official video to the single. The project is Jazz Hamilton's version of the original composition by Charles Chaplin, as the classical pop recording artist and musical director, looks to bring hope of a better tomorrow to the faces of millions of people across the globe after a tumultuous 2020.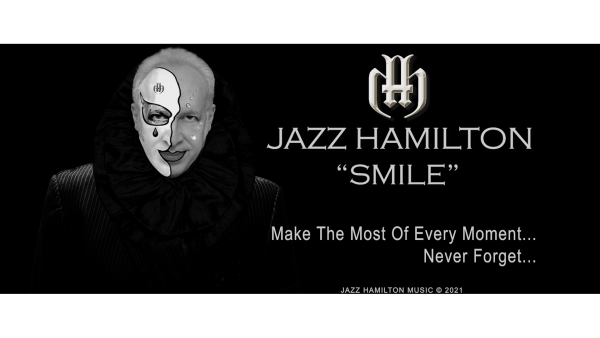 "In memory of the ones we have love and lost due to Covid-19… And The Ones That Stayed Behind… Make the most of every moment… Never forget…" – Jazz Hamilton.
Jazz has evolved over the years, with several talented acts adding some flavor to the genre to meet the diverse needs of music lovers across the globe. Jazz Hamilton has undoubtedly created a unique style, offering a fantastic fusion of classical, pop, jazz, Latin jazz, contemporary jazz, and salsa genres. Jazz Hamilton has a reputation for creating music that touches the heart of the listeners and he is looking to continue in this tradition with the release of the music video and single, Smile.
The song was originally done as a soundtrack for Charles Chaplin's 1936 film Modern Times. Over the years, the composition has been recorded by several artists in different ways. However, Jazz Hamilton looks to deliver a soul-lifting arrangement that captures the most intimate feelings of belonging, healing, and nostalgia of listeners, with an incredible rendition for Alto Saxophone and Orchestra.
Video Link: https://www.youtube.com/embed/J71elFeBdHA
"Smile," which is set to premiere on Friday March 12, 2021, at 1:00 pm is released off Jazz Hamilton's forthcoming album entitled "NOCTURNE" that will drop in summer 2021.
For more information about "Smile," the "NOCTURNE" album, and other projects from Jazz Hamilton, please visit – www.jazzhamilton.com
Jazz Hamilton can also be found across social media, including Facebook and YouTube.
About Jazz Hamilton
Jazz Hamilton is a Puerto Rican saxophonist, classical pop recording artist, musical director, and composer popular for his recordings on classical, pop, jazz, Latin jazz, contemporary jazz, and salsa genres. Over the years, he has worked with the likes of El Maestro Tito Puente and Giovanni Hidalgo as well as performing with internationally well-known artists such as Sammy Davis Jr., Hilton Ruiz, Red Rodney, and Jose Jose. Today, Mr. Hamilton plays his brand of professional saxophones The Jazz Hamilton Revolution 65, 100% handcrafted to his specifications by a selected group of master craftsmen.
Media Contact
Company Name: Recording Artist Jazz Hamilton
Contact Person: Media Relations
Email: Send Email
Country: United States
Website: www.jazzhamilton.com