Newly launched tooth whitening technology, PopShine, ensures safe, affordable results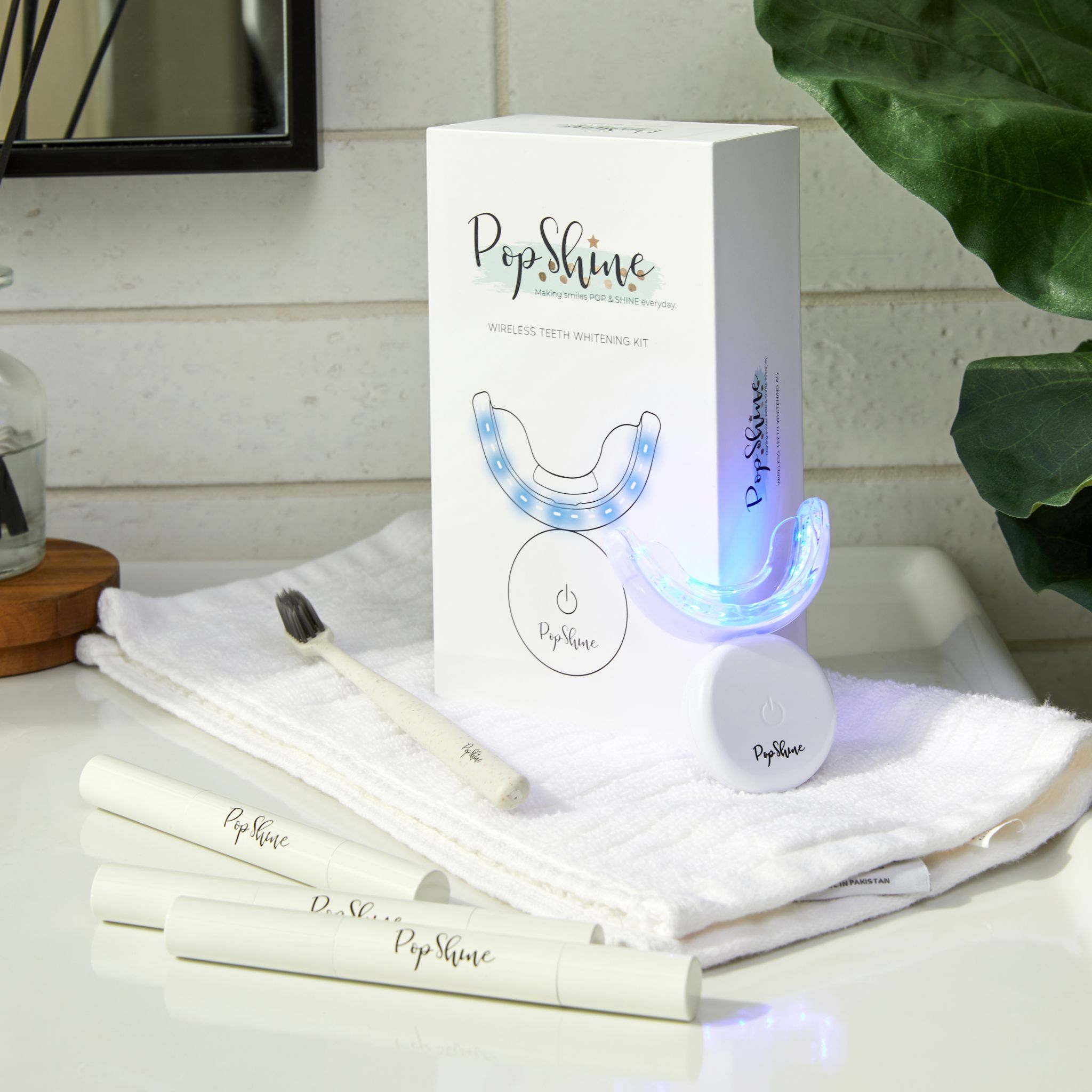 Atlanta, GA – August 1, 2022 – You've got the cute dress, the new, strappy sandals, and a great new shade of lipstick but what about the one thing everyone will be looking at – your teeth? Wedding season is here and your smile is sure to be on display. PopShine, a sleek new tooth whitening technology can get your teeth brighter and whiter in just seven days safely and easily without the pricey visit to the dental office.
Study after study has shown that the first thing people notice about someone is their smile. The quickest and easiest way to enhance that smile is with tooth whitening. With the rising cost of living, and the extreme prices that dentists can charge for tooth whitening services, many are looking for an alternative. While products exist that claim to whiten teeth, several have been shown to be unsafe and increase tooth sensitivity. That's why Kerri Rucker, an Atlanta-based dental hygienist with more than 20 years of experience decided to create the PopShine whitening kit.
"For two decades I've helped patients whiten their teeth in dental offices across Atlanta. I took the same technology we used in the dental clinic and I made it affordable and convenient," explains Kerri Rucker, Founder of PopShine. "The PopShine Smile kit is less than a quarter of the cost of in-clinic treatment, making whiter, brighter teeth much more accessible. Not only is the PopShine safe and more affordable, but it's also far more convenient. There are no appointments, no crowded waiting rooms, and no check-up fees. Just paint the special PopShine whitening solution onto your teeth, turn on the blue light mode, place the PopShine LED mouthpiece over your teeth and watch TV or read a book for 15 minutes. In just one week, users see fantastic results that can be maintained for months. Everyone is going to wonder what your secret is!"
The PopShine system features 32 bright LED lights embedded in an easy-to-wear mouthpiece. Users simply paint on the whitening solution – which is made of the same ingredients used by dentists to whiten patient's teeth in-clinc – and use the blue light mode for 15 minutes twice a day. Incredible results are visible within seven to 10 days. Unlike expensive disposable strips, the rechargeable PopShine can be used over and over again to not only get teeth whiter and brighter but to maintain those results over the long term. Whether it's a date, an interview, or just hanging out with friends, PopShine users will have the confidence to show off their bright new smile.
PopShine comes with a wireless 32-LED light mouthpiece to accelerate the whitening process, three safe and effective whitening solution pens, a tooth color shade guide and a magnetic LED light charger along with a bonus PopShine wheat straw toothbrush. The PopShine comes with a one-year warranty and free shipping is available across the U.S.
For more information or to purchase the PopShine Smile tooth whitening kit visit www.popshinesmile.com.
To see some of the incredible results patients are getting with the PopShine kit and for tips and tricks to maintaining a bright white smile, connect with PopShine on social media by following @popshinesmile on Instagram.
Media Contact
Company Name: Pop Shine
Contact Person: Kerri Rucker
Email: Send Email
Phone: 770-842-0167
Country: United States
Website: https://www.popshinesmile.com