Iceberg Investment Acquires GraySpectre: Pioneering Data-Driven Solutions in the UAE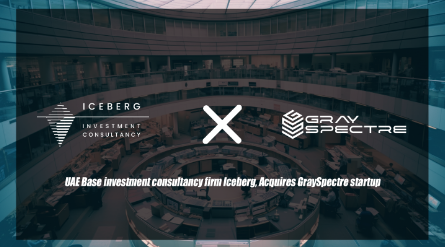 UAE Base investment consultancy firm Iceberg, Acquires GraySpectre startup
In a transformative move poised to revolutionize the investment consultancy landscape, Iceberg Investment, a prominent investment firm based in Dubai, has recently completed the acquisition of GraySpectre, an innovative AI and data science startup specializing in financial markets. This strategic partnership marks a significant milestone in Iceberg's pursuit of cutting-edge solutions and the advancement of data-driven investment consultancy within the region. With a $4 million investment and a 78% stake in GraySpectre, Iceberg Investment solidifies its position as a leader in the rapidly evolving financial industry.
GraySpectre caught the attention of Iceberg Investment during a captivating pitch deck presentation at the esteemed IFIN Expo in Dubai last year. The exceptional AI and data science capabilities showcased by GraySpectre, combined with their expertise in analyzing diverse datasets from multiple trading signal providers, left an indelible impression on Iceberg's seasoned industry leaders. Recognizing the immense value and potential in GraySpectre's offerings, Iceberg wasted no time in forging an acquisition to propel mutual growth and excellence.
The acquisition of GraySpectre by Iceberg Investment is underpinned by a shared vision for expansion and service enhancement. GraySpectre boasts a proven track record and technological advancements that serve as a solid foundation for further growth. The infusion of capital from Iceberg Investment will enable GraySpectre to further develop and refine its services and solutions. With a focus on AI, machine learning, and data analysis infrastructure, GraySpectre is poised to deliver cutting-edge tools and invaluable insights to investors and traders, revolutionizing their decision-making processes.
Iceberg Investment's investment in GraySpectre signifies more than just financial support; it represents a collaborative effort to propel the entire financial industry forward. By fostering the growth of innovative startups like GraySpectre, Iceberg demonstrates its unwavering commitment to driving industry-wide progress. This partnership between Iceberg and GraySpectre exemplifies the shared belief in the transformative power of data-driven solutions and their ability to reshape and elevate investment practices for the better.
The acquisition of GraySpectre equips Iceberg Investment with state-of-the-art tools and technologies that bolster their existing services. GraySpectre's primary focus on AI, machine learning, and data analysis infrastructure has enabled the development of robust frameworks for asset management and financial market quantitative analysis. By harnessing GraySpectre's expertise, Iceberg can now provide clients with even more reliable, accurate, and data-driven investment recommendations, empowering them to make informed decisions in the face of a rapidly changing market landscape.
Iceberg Investment's acquisition of GraySpectre positions the company at the forefront of data-driven investment consultancy. Through this strategic partnership, Iceberg can expand its range of services and solutions, offering clients innovative tools and insights that were previously unparalleled. The fusion of Iceberg's extensive industry experience and GraySpectre's advanced AI capabilities creates a synergy that paves the way for groundbreaking advancements in the financial sector.
Iceberg Investment's investment in GraySpectre showcases the company's commitment to embracing technological advancements in the financial industry. With a particular emphasis on AI, machine learning, and data analysis, Iceberg acknowledges the immense potential these cutting-edge technologies hold for driving investment success. By leveraging GraySpectre's expertise, Iceberg aims to leverage AI algorithms and data analytics to provide clients with an unparalleled edge in an increasingly competitive market.
Media Contact
Company Name: ICEBERG
Contact Person: Public Relations
Email: Send Email
Country: United Arab Emirates
Website: https://iceberg.financial