Shanna A. Jefferson set to host The Mental Cost of Entrepreneurship Summit
The Mental Cost of Entrepreneurship Summit, Hosted by Shanna A. Jefferson, MSW, LCSW, Award-Winning Therapist and Entrepreneur
ATLANTA – May 19, 2023 – We are delighted to announce the ground-breaking virtual conference "The Mental Cost of Entrepreneurship Summit" organized and hosted by the esteemed Shanna A. Jefferson, a prominent figure in the fields of psychotherapy and business leadership.
As a highly-regarded Mental Health Therapist and Business Coach, Shanna understands the unique challenges that entrepreneurs face on their journey to success. Her mission is to empower entrepreneurs to create harmony in their lives and businesses through personal development, mental wellness, and adopting sustainable business practices.
The summit is scheduled to take place on May 31, 2023, and aims to reach a worldwide audience of entrepreneurs, startup owners, business enthusiasts, mental health professionals, and anyone interested in understanding the mental cost of entrepreneurship.
The Mental Cost Entrepreneurship Summit aims to provide entrepreneurs with the tools and resources they need to take charge of their mental health, minimize stress, and maximize profit. By addressing the often-neglected aspect of mental well-being, this summit will help participants achieve long-term success and fulfillment in their entrepreneurial endeavors.
Entrepreneurs from all industries and at any stage of their journey are encouraged to join us for this transformative event. By investing in your mental well-being, you are taking a proactive step toward building a resilient, successful, and fulfilling entrepreneurial path.
Save the date for The Mental Cost Entrepreneurship Summit and be prepared to eliminate burnout, enhance self-awareness, improve clarity, gain peace of mind, get unstuck, and amplify profits.
Register today at www.TheMentalCostofEntrepreneurship.info.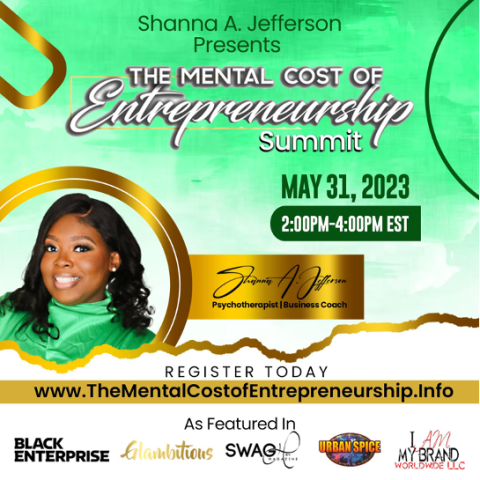 Event Details:
Name: The Mental Cost Entrepreneurship Summit
Date: May 31, 2023 (Wednesday)
Location: Online (Virtual event)
Website: www.TheMentalCostofEntrepreneurship.info
About The Visionary
Allendale, SC native Shanna A. Jefferson is a dynamic and prolific Mental Health therapist, Business Coach, life coach, and speaker. Shanna has celebrated esteemed recognition from Sisters Pushing Sisters International as an "Ordinary Woman Doing Extraordinary Things" and featured in numerous publications including Black Enterprise.
As a Business Coach and Psychotherapist, Shanna helps entrepreneurs create harmony in life and business through personal development, mental wealth, and sustainable business practices so they can reclaim their time, gain clarity and amplify their income and impact.
You can learn more about Shanna and her endeavors at www.shannajefferson.com.
Media Contact
Company Name: Visions of Greatness Enterprises, LLC
Contact Person: Shanna A. Jefferson
Email: Send Email
Address:3500 Lenox Road Suite 1500
City: Atlanta
State: GA 30326
Country: United States
Website: www.shannajefferson.com